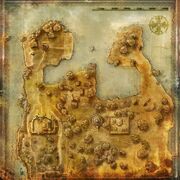 Description
Edit
Welcome Adventurer's to the Wonderful World of Dal Rita!
All new Adventurer's begin their story in a land known as Lir's Reach. Lir's Reach is an expansive plain filled with rolling hills cascading to distant lands. It is surrounded mostly by water and in the center lies a Towering Castle. Along your journey you will be asked by those who reside here to asist in many a Quest.  You will also encounter many Monsters and make many Friends along the way.
Good Luck Highlander!
Leystones
Edit
Crossroads
Heroes' Landing
Highshore Village
Eastern Docks
Northern Peninsula
Southern Pass
Temple
Western Road
Neighboring Areas
Edit
Points of Interest
Edit